Finding the perfect skincare routine is crucial, especially after 50.
As time passes, your complexion can become weakened, leading to irritation and dryness. But a simple routine can be just what you need, to help you feel confident at any age!
So here's how to create your perfect skincare ritual, step by step.
Cleansing: A Fresh Start
Before you apply any products, always start by using a gentle cleanser…
To ensure your skin is free from any pollutants, which could cause blocked pores and irritation.
Choose a gentle, hydrating cleanser to remove impurities without stripping your skin of its natural oils.
Cleansing will help prepare your skin for the next steps, ensuring your skincare products are absorbed effectively.
Hydration: Lock in Moisture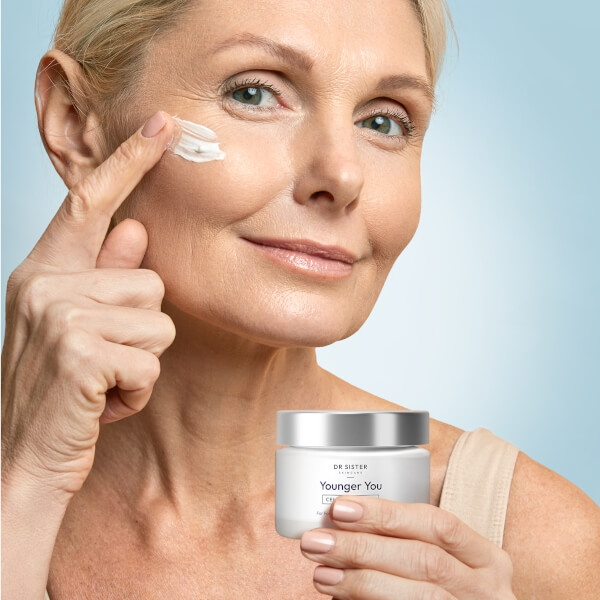 After you've cleansed, it's now important to rehydrate your skin.
A quality anti-ageing moisturiser will not only help to replenish and lock in moisture, but also target fine lines and wrinkles.
For a "youthful-infusion", giving your skin just what it's craving.
We recommend Dr. Sister's Younger You for this step.
Start by warming it up between fingers and then apply gently in upwards circular motions for the best results.
Use this morning and night for best results.
Anti-Ageing Superheroes
Now is the time to use products for specific skin concerns. Such as dark spots, acne scars, or hyperpigmentation.
For this step consider using Dr. Sister's Dark Spot Vanish.
Helping you get rid of dark spots and achieve an even, youthful complexion at any age.
Apply this gently with your ring finger, to avoid tugging on any sensitive skin. Use on your face, chest, neck or any other parts of your body, as needed.
If you'd like to target sagging, crepey skin you could choose Crepe Rewind. For a smoother, tighter look on all areas of your body, such as arms, chest or even your legs.
Sun Protection: Shield Your Skin
Protecting your skin from the sun's UV rays is non-negotiable.
So for your next step, we recommend using a broad-spectrum sunscreen with at least an SPF30.
Use this daily in the morning, after you've applied your moisturiser. And don't forget to do this even on cloudy days!
To safeguard your skin from further damage and premature ageing.
And if you want to go the extra mile…
Don't forget your neck, chest and other parts of your body, which might also get exposed to sunlight.
Ritual for Your Eyes Only
Last but not least come your eyes, one of the most sensitive areas of your body…
And one that can quickly give away your age, if plagued with crow's feet, dull skin and under-eye circles.
Which is why we recommend using a light, gentle eye cream, to relieve puffiness and reduce the appearance of dark circles and fine lines.
Don't forget to also apply this gently, using your ring finger.
The best time for an eye cream is as part of your night-time routine. As during the night your skin cells regenerate and you naturally produce more collagen…
So, combining this natural process with a targeted eye cream, will help combate signs of ageing and revitalise the skin around your eyes.
A Boost From Within
When caring for your skin, you don't have to stick to the surface.
So the best way to fully boost your skincare results is to also nourish your skin from within…
Dr. Sister's Inner Beauty is the perfect choice. A unique beauty enhancing formula with all the powerful nutrients your body needs…For healthy, smoother skin with just one capsule!
And what's more…
Inner Beauty can also help you achieve stronger, healthier hair and nails. For a younger-looking, glowing appearance from top to bottom.
Bonus Tip
Did you know thinning, dull-looking lashes and eyebrows can also reveal your age?
These might not be part of your usual skincare routine, but with a little extra care they can truly transform your look!
For this we suggest using a natural lash and eyebrow serum as your very last step. Helping you regain thick, strong, glowing lashes and healthy, shaped eyebrows.
So why not try out Dr. Sister's Lash Saviour serum…to help you look as young as you feel!
Consistency: Stick to Your Ritual
As always, consistency is key to radiant, youthful-looking skin.
So, stick to your ritual and be patient. With consistent care you will start to notice some amazing results!
And remember: simple is best. Skincare over 50 doesn't have to be complicated.
By following these easy steps, which cater to your skin's changing needs…You too can achieve a youthful, radiant look.
So you can age gracefully and confidently.